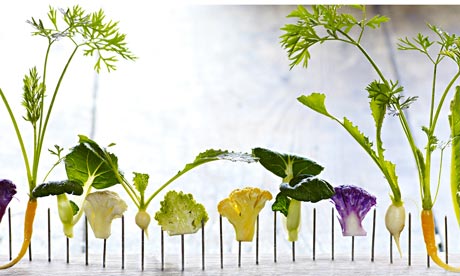 For the past few months, Matthew has been taking a magic class on Thursday afternoons. When I pick up "Matthew the Magnificent," as I now refer to him, he performs his new tricks for me before we even leave the classroom. As the weeks have gone on, he has gotten more adept at sleight-of-hand and his tricks have become more sophisticated. When he did the disappearing hanky trick last Thursday – over and over – I swear I had no idea how he did it. Like Matthew says, "A magician never reveals his secrets!" And to be honest, I really didn't want to look too closely and ruin the magic!
Such was not the case, however, with the enchantingly magical meal we experienced on Saturday night with our friends Yvette and John. The four of us spent five hours savoring the ten-course, wine-paired gastronomic orgy prepared by

Chef Dan Barber

at

Blue Hill at Stone Barns

, all the while deconstructing the rapturous food and drink before us. Not a single sensual nuance was lost on us all evening.
You need to know up front that over the past 16 years, we two couples have probably consumed more divine calories together than Calista Flockhart would eat in eleventy-thousand lifetimes. The baseline dining adventure occurred back in 1994, when, after an exceedingly merry sushi dinner at Haruki (when it was still on Park Avenue and Helen was there), the guys decided they were still hungry. But we weren't like normal people who might go to the local ice cream shop, tack on a sundae and be done. No sir. We went down the road to the local Italian restaurant and tacked on a complete second dinner. Mangia, baby! At like 10:30 at night. I remember being seven or eight months pregnant with Ben, exhausted, wanting to plant face in a dish of homemade pasta, but not daring to be a partypooper and raise my white surrender flag. The evening remains one of our fondest collective memories, and we effectively set the bar that we have spent the better part of 14 years raising. And all these years and six sons later, we continue to share this mad, passionate love affair with all things culinary, as well as a deeply cherished friendship.
We were graciously introduced to Blue Hill almost a year ago by another adored couple, with whom we have also shared many incredibly fabulous evenings over the years. Unfortunately, that dinner coincided with David's prolonged mystery illness last spring –and you know he wasn't feeling well if he opted out of the tasting menu, much to the disappointment of the rest of us. (That's when I really started to worry about him!) He's been kicking himself ever since he recovered and realized the opportunity he missed, and he has vowed to go back and get the Full Monty. When our friends found out we had gone back last weekend – with another couple – they joked that we were cheating on them. Maybe that's what added just an extra hint of naughtiness to the evening!
Blue Hill is located about 30 miles north of New York City at the Stone Barns Center for Food and Agriculture in Pocantico Hills. Chef Barber and his partners helped create the philosophical and practical framework for Stone Barns, a working four-season farm and educational center. The chef sources from the surrounding fields and pasture, as well as other local farms in the Hudson Valley. There are no menus. Instead, you are presented with a list of ingredients of the best offerings from the field and market that day, many of which will appear on your plate throughout the course of the evening. The chefs cook on-the-fly and customize the menu for each table, based on dietary restrictions, likes, dislikes and your reaction to previous courses. ("Do you have an aversion to organ meat?" "Hell no! Bring it on!")
Driving into the pristine farm, you see breathtaking pastures and some of the livestock living among the stone Normandy-style barns, originally built in the 1920s by the Rockefeller family. The dining room is at once simple and sophisticated, rustic and elegant, filled with charm and warmth. As the sun set and the interior lighting became more featured (and we drank more wine!), the pastoral mural – the only color in the white, dark-wood accented room – seemed to become even richer and more vibrant.
The superb service by our waitstaff and exceptional sommelier appeared to be a Busby Berkeley-directed ballet. Dishes were presented to each table and revealed in perfect sync, and a server would explain in detail what the chef had prepared. For a large party, you'd see four or five plate-toting servers one behind the other, weaving their way through the dining room to the destination table for simultaneous presentation. There was even foreplay for several courses – our server would bring over a bowl or platter of a particular kind of harvest and educate us about several varieties of that particular ingredient. But she would only tell us, teasingly, that the chef had incorporated the ingredient "in some way" in our next dish and would leave us on the edge to await its arrival. We engaged our fabulous server and sommelier in detailed discussion about food and wine, and by the second course they knew we were passionately serious about our meal. With that feedback, the kitchen produced a culinary masterpiece that only raised us into another galaxy with the unconventional, highly-inspired wine pairings selected for us.
The chef's signature style is to showcase and enhance ingredients rather than to sauce them into unrecognizibility. He wants you to appreciate the essence of the ingredients, and let them be the star of the show. It's like he's a humble gift-giver whose sole satisfaction is delighting in what he's given you. Sure you can go there and simply "eat" rather than "experience," but it's rather like jogging through a museum and glancing at the pretty paintings.
Even cocktails, like the blood-orange ginger margarita, are made with the most freshly-squeezed juices. Our amuse bouche course alone was so mindboggling that we knew there was no possibility of remembering the ingredients, and we asked our server if there was any way she could create a copy of the menu for us. She eagerly agreed, seeming almost flattered that we would ask, and told us they would be more than happy to compose a beautifully printed version of our personal menu and mail it to us.
See, Dave and I have a culinary wall of fame. Over the years, we have collected menus (often signed by the chef) from memorable meals all over the world, had them framed, and hung them together on a big wall near the dining room. What makes for a memorable meal? Well, it's not simply going to a highly-acclaimed restaurant. It's having a whole experience that transports you to a parallel universe. The stars are aligned. You're connected – for but a fleeting glimmer – to the meal and the space and your dining companions in a way that you can't manufacture or plan. It just happens. Lunch in Eze at the Chèvre d'Or high atop the Mediterranean where I'll never forget the dreamy look in David's eyes. Birthday celebration at Lespinasse with a Joseph Phelps wine pairing. Extraordinarily glamorous dinner at Pierre Gagnaire. The rolling champagne cart at Les Ambassadors at the Crillon. In fact, it's been a very long time since a dining experience has qualified as wall-worthy. But sighhhhhh…they nearly had me at "hello."
Since we were promised a written copy of our meal, we didn't write down as we went along, and the next morning the four of us collaborated in an attempt to recollect the courses. It's not complete, but we did the best we could:
– a farro chip and a purple potato chip woven with a sage leaf
– a baby carrot, a lettuce leaf and purple cauliflower presented on signature skewers
– tiny beet burgers on heavenly, buttery buns
– a micro lettuce leaf filled with fried chickpeas and smoked paprika
– a breaded, fried disc of Berkshire hog with pickled cauliflower
(we drank a lovely rosé champagne with this course)
Onion-potato bread served with homemade Berkshire cow's milk butter and ricotta, as well as homemade arugula salt and beet salt (The butter alone, served on a slate slab, was scrumptious and the bread was served hot and crunchy all evening.)
Marrow bone topped with fish roe (This was an ambrosial showstopper. We didn't know how he could top this imaginative, unctuous combination. One bite of this, and you understand "

umami

." This was paired with an unusual, delicious Riesling the sommelier described as "rich and smoky," which exceeded our expectations, particularly in the nectary, floral finish.)
An elongated cube of Spanish mackerel flash-charred on one-side, raw on the others, served with sunflower sprouts and citrus (The sharpness of the sprouts, the bitterness of the char and the acid of the citrus was the perfect cleansing transition from the rich marrow in the previous course. We drank a citrusy, Greek white which some of us found almost chalky.)
Local hake with Maine seafood (The hake was soft and shreddy rather than flaky. The tiny seafood was delectable. We sipped a white Burgundy with this.)
Spring chicken egg in spinach froth and French lentils (This may be the most ethereal spoonful of food I've ever eaten. The egg had been laid that morning and was tiny and delicate with a luscious yolk. It literally melted in your mouth. This was paired very nontraditionally with what the sommelier described as a "truffley, funky, almost dirty" red. I couldn't stop sniffing it and when I finally sipped, it was life-alteringly lusty. Remember, I have a theory about people who don't like truffles!)
Goose-egg pasta with grated dry-cured immature egg, served with a swoosh of ice-spinach purée (We drank a hearty Barolo with the pasta, which was served dry and al dente. This was the only dish all evening we thought we could have improved upon, as it needed a hint of slipperiness –not a sauce, but a misting of a light, egg-based emulsion perhaps.)
Brined goat neck on pine-nut butter with swiss chard (None of us could remember what we drank by this point in the evening!)
Sliced venison medallions and a bite of venison sausage with baby carrots (This was spectacularly tender, medium-rare, and paired perfectly with a rich, hearty Ridge cab-merlot blend.)
Cheese: a contrast in styles (The cheese plate was a comparison of the English and American versions of two cheeses: cheddar and blue. It was served with homemade spelt toast, spiced pears, and honey gelée harvested from the farm's apiary. We drank a caramelized Madeira with this course.)
Passion fruit sorbet with a bite of caramelized Meyer lemon (The sublime lemon had us talking for the rest of the evening and the next morning. It was sweet and tangy and caramelized and we couldn't figure out how they could achieve such a swoonful result.)
Parsnip cake for the ladies and a baked mini-apple on oatmeal crunch with cinnamon ice cream for the guys (In the most unexpected pairing of the evening, we were served an artisan English harvest ale aged in Lagavulin barrels. It was toasty, caramely, thick and creamy with a whisky taste and a high alcohol content. Slow drinkability, but a magnificent complement to the parsnip and apple flavors in our dessert.)
– dehydrated raspberry braids
– orange-oil chocolate truffles
After our final course, Chef Barber came out to meet us, and he stood humbly by the table accepting our accolades, before inviting us into the impeccable kitchen for a tour. We were fascinated by the calm intensity in the belly of the beast, watching as the cooks and waitstaff moved like clockwork, firing, plating, serving.
And lo and behold, knowing what happens behind the scenes didn't—couldn't—diminish the magic in the least.
---